Are you new to Apple AirTags? Are you wondering, where do I put Apple AirTags? If you are then I have you covered with some of the coolest AirTag ideas and tracking uses below. 
AirTags are commonly used to find items such as keys, wallets, and luggage, but you can also track things like power tools, bicycles, TV remotes, and much more. 
In this article, I offer up 13 cool uses and ideas on where to put this exciting Apple tracking technology.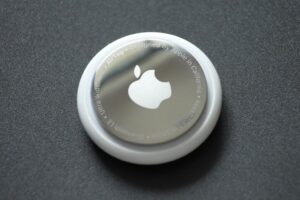 13 Of The Best AirTag Uses You Need To Try
1. Put An AirTag On Keys, Wallets, Purses And Bags
2. Put An AirTag In Your Luggage
3. Put An AirTag On Your Tech Devices
4. Put An AirTag On Your Power Tools
5. Put An AirTag On Your Bicycles
6. Put An AirTag On Your Trash Cans
7. Put An AirTag In Your Storage Bins And Boxes
8. Put An AirTag On Your TV Remotes
9. Put An AirTag In Your Cars
10. Organize A Scavenger Hunt With A Difference Using AirTags
11. Put An AirTag Your Passports
12. Put An AirTag On Your Baby Strollers
Have you seen the price of strollers and pushchairs lately? If you're stroller or pushchair were ever to go missing outside a store or in a park (hopefully without your little loved one). With an AirTag attached, you can hunt down its location and avoid having to fork out on a new one, which would be annoying for any parent.
13. Put An AirTag On Your Holiday Inflatables
More and more homeowners are putting inflatables up for the holidays like Halloween, Thanksgiving, and Christmas. Unfortunately, inflatable theft is on the rise too. Sure, you can protect them with CCTV cameras, but why not attach an AirTag to them? With an AirTag, it won't take long to find the location of your missing 16ft inflatable Santa!
Introducing The Apple AirTag
The Apple AirTag smart tracking device is designed to help you find and track down your misplaced or lost items with the Find My app. Available to purchase individually or in a pack of four, this tech opens up some unique and novel tracking opportunities.
AirTag by Apple. How to set up and locate an item.
The device has been designed around the popular coin-sized CR2032 battery making it relatively small and easy to maintain.
When looking at the AirTag you will find they are built to a rating of IP67 water and dust resistance and have a built-in speak that is capable of playing a sound when activated to help locate the tag.
An AirTag can be cheap personalized tech gift for that special someone in your life? Apple offers free personalization of the AirTag at the time of purchase through or when you buy the device at an approved Apple Store. Choices include initials or an emoji icon.
How Does An AirTag Work?
Each AirTag uses Ultra Wideband and Bluetooth to determine its distance and direction from your Apple device. If an AirTag is no longer within Bluetooth range of your device, it will leverage other Bluetooth Apple devices on the Find My network and use those devices to broadcast its location.
As you would expect, like with other Apple products, the set-up process is intuitive and user-friendly. During the set-up process, an AirTag can be given a friendly name like "Mom's Car Keys".
Once up and running the AirTag is now part of the Find My network and its location is viewable on the Find My app map where you will see its last know location.
Apple has approximately one billion devices on the Find My network. Should you lose the AirTag, switching the AirTag into Lost Mode will allow you to receive a notification once it appears on the Find My network map.
AirTag Accessories
So, now that you have some cool ideas on where to use AirTags, you might be wondering how to attach AirTags to stuff.
AirTags are not completly magnetic, nor are AirTags sticky out of the box. To achieve this, you will need to rely on an AirTag accessory. Fortunately, there is a wide range of AirTag accessories like the loop available from both Apple and third-party companies that you can use along with AirTags.
Frequently Asked Apple AirTag Questions
Hopefully, I have answered all your questions on where do I put Apple AirTags and I've given you some handy AirTag ideas and uses. Below you'll find a few additional AirTag frequently asked questions.
Are Apple AirTags adhesive?​
Apple AirTags are not adhesive. As AirTags become more popular we expect there to be multiple product lines that will come out and offer this feature. So in the meantime it requires trial and error to find the best solution or accessory for sticking AirTags to items.
Can I track a pet with an Apple AirTag?
While you can, Apple recommend to not track a pet with an Apple AirTag.
Can I track my kid with an AirTag?
While you can, Apple recommends you should not track your kid with an AirTag.
How much do Apple AirTags cost?
Apple AirTags cost $29 for a single AirTag and $99 for a pack of four AirTags.
Final Thoughts On Where Do I Put Apple AirTags
I love this Apple tech and it appears there are many strong and fun use cases for this cheap tracking technology. So, in conclusion, where do I put Apple AirTags? AirTags can be used to track almost anything you can attach them to!
I understand that other brands are offering similar AirTag Android tracking solutions, however, I feel that being part of the Apple Find My network will only lead to bigger and better things for AirTags.
I hope this article has helped answer the question, where do I put Apple AirTags? If you're looking to get a little deeper into AirTags, check out more here, or go out and get some AirTags and start tracking items yourself.
---