AirTags make it easy to track and find your misplaced stuff like keys, wallets, purses, backpacks, luggage, and more.
If you're new to AirTags, one question regularly asked is, are AirTags sticky? If you're wondering the same, read on because this article is for you!
Apple AirTags are not sticky. However, there are a wide selection of adhesive AirTag accessories available to buy that will allow you to stick your Bluetooth AirTag tracker to almost any surface you want.
Stick around (no pun intended) because, in this article, I explore how you can stick this easy-to-use tracking tech to items you want to track if lost or stolen.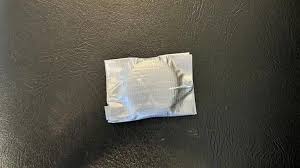 Are Apple AirTags Sticky?
Apple AirTags are not sticky, however, this does not mean that you cannot stick your AirTags onto the items you want to track. There is a wide range of AirTag adhesive mounts available from many third-party companies that you can use.
According to Apple's technical specification, AirTags are made of polished stainless steel with a removable cover that allows users to replace the CR2032 coin cell battery. If you want to attach your AirTag to an item, then an adhesive AirTag mount is a great choice to make this happen.
One point to note here, as well as not being sticky, AirTags also do not come with a pre-drilled keyring or lanyard hole which further strengthens the need for a third-party AirTag accessory unless you plan on carrying it in your pocket or bag.
Do AirTags Stick To Things?
Weighing in at 0.39 ounces which is the equivalent of 11 grams for those readers more used to the metric system, the AirTag's lightweight design makes it perfect for sticking to items.
If you want to keep things neat and perhaps more secure and don't want to flaunt to a would-be thief that you have an AirTag, then an adhesive mount is going to be your best option.
If on the other hand, you're okay with some backyard engineering, then using one of the following methods below will do the trick nicely. Just keep in mind to orient the AirTag so you can change the AirTag's battery about once per year. Check out my other article on how to change an AirTag battery
Tried and tested alternative ways to attach an AirTag to something:
Duck Tape or double-sided sticky tape
Sticky back velcro hook and loop
Command strips
Zip Tie adhesive mounts
All purpose acrylic latex caulk plus silicone 
Pop the AirTag into a Ziploc bag and attach the bag using your preferred method
Another common question you might be asking yourself is can you stick an AirTag onto a metal surface? You can, but AirTags are not completely magnetic. There is a weak magnet on the glossy white side, however I would recommend using a magnetic case like the ones below.
Can I Glue My AirTag To Something?
Nothing prevents you from gluing the glossy white side of your AirTag to something. Keep in mind that you will need to replace the battery about once a year, so it's advisable not to glue the polished stainless steel side.
If you're in a pinch and want to attach an AirTag to something, gluing it might be your best bet. Since the glossy white side of an AirTag is plastic, ensure the glue you use will provide an adequate bond. Below are our favorites glues.
Are There AirTag Adhesive Mounts?
Adhesive AirTag mounts come in various shapes and sizes, typically giving you the option to stick an AirTag to either hard or soft surfaces like fabric. Some of the leading third-party accessory makers even have a solution that allows you to stick an AirTag to a curved surface.
Frequently Asked Questions
Hopefully, I have answered all of your questions related to, are AirTags sticky. You may still have other questions surrounding AirTags. If you do, below, I have answered some AirTag frequently asked questions, or check out my other article on do AirTags come with a holder.
Does an AirTag have a keyring hole?
No, there is no pre-drilled keyring hole. You will have to use an Apple or third-party accessory if you want to attach the AirTag to an item.
What iPhone OS version works with an AirTag?
AirTags will work with iPhones with iOS 14.5 or later, this means any iPhone that is older than a 6S is not going to work.
Are AirTags rechargeable?
An AirTag isn't rechargeable. It uses a CR2023coin cell battery with a typical lifespan of one year.
Can I use AirTags with an Android?
You cannot use an Android for tracking an AirTag. However, if your Android device has a NFC reader you can use it to help recover a lost AirTag.
Are AirTags adhesive?
AirTags are not adhesive.
Final Thoughts On Are AirTags Sticky
So, in conclusion, are AirTags sticky? AirTags are not sticky out-of-the-box. But not all is lost (so to speak). Apple AirTags are fantastic trackers that leverage one of the biggest ecosystems available, the Find My network by Apple. With many Apple and third-party accessories available, there is something that will suit your needs should you want to stick an AirTag to something.
Are you new to Apple AirTags and not sure where to use them? Take a look at my other article on useful Apple AirTag tracking ideas.
---