AirTags are the must-have tracking gadgets for Apple users. They make it easy to track and find misplaced stuff like keys, wallets, purses, backpacks, luggage, and more.
But, if you are new to AirTags, you might be wondering, can you share a 4 pack of AirTags? Well, you're in luck because this article has the answer.
You can share a four-pack of AirTags between multiple people, but each AirTag can only be linked to one Apple ID.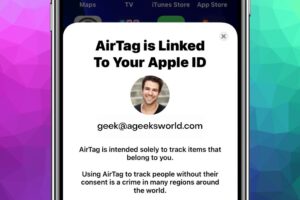 In this article, I explore topics such as, can you split a four pack of AirTags with multiple people, can one AirTag be shared, and much more.
Can One AirTag Be Shared?
An AirTag can't be shared between multiple people. The limitation to sharing comes from only being linked to one Apple ID. AirTags are designed to be owned by a single person.
Apple's Family Sharing feature allows you and up to five other family members to share access to its services like Apple Music or an iCloud storage plan. You can even help locate each other's missing devices with Family Sharing. However, Family Sharing does not support the sharing of AirTags and their location data.
Can I Give One Of My AirTags To Someone Else?
Apple does allow you to transfer an AirTag to someone else. If you want to use an AirTag that someone else has used, the AirTag needs to be removed from the Apple ID first.
AirTags use a feature called Pairing Lock which ensures no one can remotely unpair your AirTag from your device. An AirTag can be easily removed from your Apple ID so that another person can use it. Let's take a look at the steps below:
First, launch the Find My app.
Next, tap the Items icon.
Next, select the AirTag you want to remove.
Next, tap the Remove Item option.
For further support on removing an AirTag, check out Apple's support page: How to remove an AirTag from an Apple ID on iPhone, iPad, or iPod touch.
Top tech tip: If the previous user removed the AirTag from their Apple ID but was out of Bluetooth range of the AirTag at the time, you'll need to reset the AirTag before you can use it with your devices.
Frequently Asked Questions
Hopefully, I have answered all of your questions related to, can you share a 4 pack of AirTags. You may still have other questions surrounding AirTags. If you do, below, I have answered some AirTag frequently asked questions, or check out my other article on are AirTags good gifts.
Can AirTags be shared with family members?
AirTags can not be shared with family members.
Can an AirTag be tracked by two iPhones?
AirTags can only be linked to one Apple ID.
How many AirTags can I register?
You can have up to 16 AirTags linked to one Apple ID.
Final Thoughts On Can You Share A 4 Pack Of AirTags
So, in conclusion. Can you share a 4 pack of AirTags? You sure can. Just because you bought a four-pack of AirTags, nothing is preventing you from splitting the four AirTags between friends and family. Just remember, don't register them to your Apple ID before giving them away.
---