AirTags are an easy-to-use, low-cost Bluetooth solution that helps you find your lost stuff. If you're considering buying an AirTag, one of the questions you'll likely want an answer to is, are AirTags good for keys?
AirTags make it easy to find your keys quickly and accurately using the Find My app. The coin-sized Bluetooth tracker can be attached to any key, giving you peace of mind should it ever go missing.
In this article, I dig into topics like, how AirTags work, are AirTags good for keys, what are AirTags best for, and much more.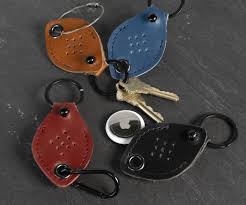 How Do AirTags Work?
AirTags work by sending out an anonymous and encrypted Bluetooth signal to nearby Apple devices on the Find My network. These devices then send the AirTag's location to iCloud. 
If your AirTag is nearby you, your iPhone can take you straight to your AirTag using Precision Finding. Ultra Wideband technology, or UWB for short, enables your iPhone to accurately determine its distance and direction from your AirTag.
If your AirTag is not with you, it can use hundreds of millions of other Apple Bluetooth devices like iPhones, iPads, and Macs on the Apple Find My network to broadcast its location to iCloud enabling you to see it in the Find My AirTag tracker app.
If you've been around Apple products for any length of time, you'll be aware that your Apple devices can be put into Lost Mode. AirTags can also be put into Lost Mode too. When your AirTag is detected by a device in the Find My network, you'll automatically receive a notification on your iPhone.
Are AirTags Good For Tracking Keys?
Misplacing something like your keys isn't a big deal when they have an AirTag attached to them. With a little help from hundreds of millions of Apple devices around the world, an AirTag makes tracking your keys simple and easy.
An Apple AirTag is an amazingly effective piece of tech for finding your lost keys. If you've lost your keys around your house, an AirTag can be a massive time-saver in help finding those lost keys quickly.
An AirTag can locate your missing keys quickly, audibly, and very accurately. Leveraging the full strength of Apple's Find My network means that lost keys can be tracked from many miles away just as easily as around your home. AirTags are a low-cost, no-brainer purchase for iPhone users who want to keep tabs on their keys.
What Are AirTags Best For?
AirTags are best for tracking everyday items like keys, wallets, bags, backpacks, and even luggage. However, AirTag trackers are not just limited to those items, you can attach an AirTag to just about anything and track it down.
AirTags can be used to track many different things, below I cover the top five best uses for AirTags. And, if you're looking for a list of cool AirTag ideas, check out my other article where I go into more detail.
1. Keys
One of the best uses of an AirTag is for finding your lost keys. Everyone misplaces their keys now and again. AirTags are the prefect solution to track down and find your lost keys.
2. Wallets, Purses, Or Backpacks
If you've ever lost a wallet, purse, bag, or even lost a backpack, you will appreciate the sheer panic that ensues. These items are easy to track with an AirTag, and better still, you can slip an AirTag into any of them and avoid buying an accessory.
3. Luggage
Who doesn't want some extra peace of mind as you travel? We all know that missing luggage is stressful, so why not place an AirTag tracker inside your luggage and remove that stress! AirTags work great inside luggage, but don't just take my word for it, give it a go!
4. Bikes
Sometimes a lock and chain aren't enough to deter a bike thief. Hiding an AirTag on your bikes is easy and could be the difference between losing your expensive bike forever or leading the police straight to it.
5. Pets
This one is controversial. Apple does not recommend attaching an AirTag to your pet. However, given the vast amount of third-party AirTag pet accessories, it's clear people are attaching AirTags on dogs and cats that tend to stray a little too far.
Do AirTags Come With A Keychain?
AirTags do not come with a keychain. You'll need to buy an AirTag accessory if you want to attach an AirTag to your keys.
Since AirTags do not have a pre-drilled hole for attaching a keychain, you will need to buy one of the many Apple or third-party AirTag accessories that are on the market. AirTag keychains come in many different shapes, sizes, colors, and materials, so be sure to spend a little time selecting the best AirTag keychain that suits your needs.
Frequently Asked Questions
Hopefully, I have answered all of your questions related to, are AirTags good for keys, you may still have other questions surrounding Apple AirTags. If you do, below I have answered some common frequently asked questions.
How heavy is an AirTag?
An AirTag is 0.39 ounces (11 grams).
How long does an AirTag last?
An AirTag will last about one year before the battery needs to be replaced.
Is an AirTag waterproof?
An AirTag is splash, water, and dust resistant.
Final Thoughts On Are AirTags Good For Keys
So, in conclusion, are AirTags good for keys? An AirTag is an amazingly effective device for finding lost keys and items. AirTags are the best key finder solution on the market thanks to leveraging hundreds of millions of other Apple devices on the Find My network. And finally, let's not forget just how budget-friendly AirTags are.
---