We all know how expensive golf equipment is, just imagine losing your golf bag with all your favorite clubs – what a nightmare! So with this in mind, we explore the question, is an AirTag a good idea for your golf bag?
Using an AirTag is a fantastic idea for tracking your golf bag. The coin-sized Bluetooth tracker can be attached to your golf bag, allowing you to easily and accurately track down your misplaced golf bag within inches using Apple's Find My app and network.
In this article, I explore how you can use Apple's AirTag Bluetooth tracking technology to find your golf bag.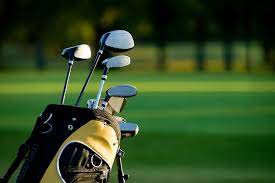 Is An Apple AirTag A Good Idea For Your Golf Bag?
Using an Apple AirTag is a great low-cost idea for securing and tracking your golf bag. AirTags have been designed to make it easy to help you find and track down your misplaced or lost items by leveraging Apple's Find My app and network. 
When paired with an iPhone 11 or greater running iOS 14.5 or later, you can use your iPhone to lead you straight to your misplaced or missing golf bag. With the AirTag's precision finding feature, you'll be able to see the distance to the AirTag and its direction.
If your golf bag has gone further afield, let's assume it's been stolen, or you're going on vacation, and your checked golf bag has been lost at an airport. An AirTag can leverage the Find My network used by millions of iPhones and other Apple devices around the world to help track down that stolen, or misplaced golf bag.
How Does An AirTag Work?
Each AirTag utilizes Ultra Wideband (UWB) technology in conjunction with Bluetooth to calculate its distance and direction from your iPhone. If an AirTag is no longer within the Bluetooth range of your iPhone, it will rely on other Bluetooth Apple devices connected to the worldwide Find My network to broadcast its location.
Once you have successfully set up the AirTag it becomes part of the Find My network and, its location is viewable on the Find My app map where you will see its last know location. According to Apple, they have roughly one billion devices on their Find My network.
Finally, just like many other Apple products, you can put an AirTag into lost mode. When an AirTag is in the lost mode you'll receive a notification if it's recognized by a device in the Apple Find My network. You can also set the AirTag so that anyone with an NFC-capable smartphone can receive your contact information by simply tapping your AirTag.
How Does An AirTag Attach To Things?
There is a wide range of AirTag accessories available from both Apple and third-party companies and typically come in the form of an AirTag keychain, key ring, holder, or mount that will allow you to attach your AirTag to just about anything, including a golf bag!
The most popular AirTag accessories are key rings and holders, an AirTag Loop which is available in either silicone, or leather and allows you to attach an AirTag to an item you want to track.
Of course, it's not necessary to use any accessory if you're comfortable with keeping your AirTag in an outer pocket or at the bottom of the golf bag itself. However, if you do want to opt for an accessory below you will find some of the most popular available.
Frequently Asked Questions
I hope this article answers the question, is an AirTag a good idea for your golf bag. You may have other AirTag questions, so below I answer some of the most frequently asked questions.
Are AirTags durable?
AirTags are durable. They are splash, water, and dust resistant with an ingress protection rating of IP67.
What battery does an AirTag use?
An AirTag uses a replaceable CR2032 coin cell battery and offers a life span of 1 year according to Apple before needing to be replaced.
What sensor does an AirTag use?
An AirTag uses an accelerometer.
What comes in an AirTag box?
An AirTag box comes with a single AirTag with a CR2032 coin cell battery installed and documentation.
Final Thoughts On Is An AirTag A Good Idea For Your Golf Bag
So, in conclusion, is an AirTag a good idea for your golf bag? Yes, it sure is a good idea if you're concerned about securing your golf bag and want to use an effective and low-cost super easy solution that offers some peace of mind. Why not buy yourself "fore".
Looking for other ideas on where you can use Apple AirTags? Fear not, head on over to my other article on cool Apple AirTag ideas. Now, where did I put that power tool again?
---