If you're looking for your next great adventure in Central America, then look no further than Nicaragua's Ometepe Island. The island is located in the middle of Lake Nicaragua in the south of the country, and it's teeming with epic activities, from hiking volcanoes to swimming in natural pools, so get ready to have a great time!
Since Ometepe is off the beaten path, we've created this ultimate guide to make sure you have the trip of a lifetime. Getting there may be a bit trickier than other destinations you've been to, but if follow you our tips, it will be as easy as one-two-three!
About Ometepe Island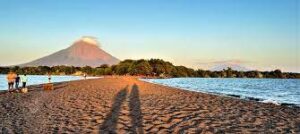 Ometepe Island was formed by two glorious volcanoes: Concepción and Maderas. These natural gems give Ometepe a stunning skyline that will take your breath away at first glance. But its volcanoes aren't the only impressive thing about it. In fact, Ometepe is the world's largest island in a freshwater lake, taking up more than 3,000 sq mi of space–interesting, right?
Although Lake Nicaragua is a freshwater lake, it's home to several oceanic wildlife, such as swordfish, tarpon, and bull sharks (swimming in the lake is safe). On the island itself, you'll have the chance to spot howler monkeys, capuchin monkeys, iguanas, wild pigs, and exotic birds–make sure to have your camera ready!
How to Get to Ometepe Island
Ometepe doesn't have an airport. So, getting there requires you to take a ferry from the port town of Rivas. But the way you get to Rivas depends on where you're coming from.
If you are in Nicaragua's capital city of Managua, you have the option to hire a private car or take a bus from the station Mercado Roberto Huembes (buses to Rivas leave every 30 minutes).

If you are coming from Costa Rica, you can take the Tica Bus and choose Rivas as your departure destination.
Once you arrive at the port town, it's time to hop on a ferry. Boats depart about every 30 to 60 minutes, the first leaves at 7:00am and the last at 5:45pm. You can check the schedule here. The journey takes about an hour and a half. It can get a bit bumpy, so, bring some motion sickness medicine if you are prone to seasickness.
Best Things to Do on Ometepe Island
Rent a Scooter or ATV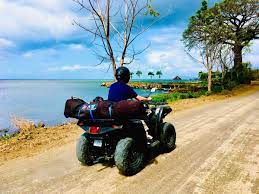 When you get off the ferry and walk into town, you'll find several businesses where you can rent scooters and ATVs. Having your own set of wheels will make everything on the island accessible, especially if your accommodation is outside of the port town. Just be prepared to leave a deposit of $100 or your passport. Once you've been given the safety briefing and a map that shows you the roads to avoid, you'll be free to explore Ometepe!
Swim in the Natural Pools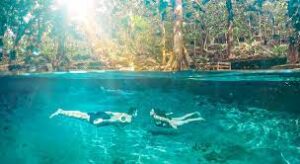 Ometepe has a lovely natural spring pool called El Ojo de Agua, and it's something you won't want to miss. The pool is fed by an underground river, which is constantly circulating new water, so don't worry about swimming in something that's nasty and murky. El Ojo de Agua is a great place to spend the hotter part of the day, so bring along a book and relax under the shade of the trees. There are typically locals selling fresh coconuts, but feel free to pack your own drinks and snacks. (Admission costs just a few dollars!)
Go Kayaking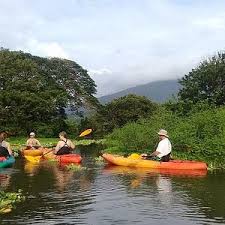 Grab a kayak and go explore Ometepe's beautiful coastline. Most accommodation options that are along the coast will have kayaks available for guests, but you'll never be too far away from a rental shop. The lake water is relatively calm; you may experience a few chops and some wind, but it won't be anything you can't handle. Your other option is to book a multi-hour guided kayak tour that will take you along Rio Istián. Whatever you decide to do, keep your eyes peeled for monkeys, turtles, and birds and enjoy the views of the volcanoes.
Climb a Volcano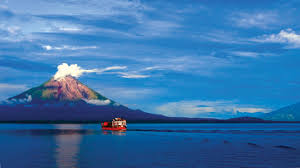 If you've always dreamt of hiking up a volcano, well, now is your chance! Climbing to the top of Volcan Concepción or Maderas are some of the best things to do in Ometepe. The journey up Concepción takes about 10 hours, and Maderas takes about 8 hours. Both hikes are strenuous, so you should be prepared to exert a lot of energy. But when you make it to the top, the epic views of the island and lake will be completely worth it. Navigating the trails can be a bit tricky, so it's recommended you go with a guide. Make sure to pack plenty of water, snacks, and sunscreen!
Hike to San Ramon Waterfall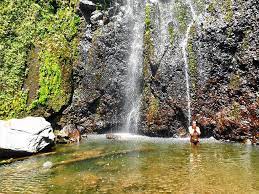 Does hiking a volcano sound a bit too much? That's okay because you can also take a much shorter hike up to San Ramon Waterfall on Volcan Maderas. It takes about 1.5 hours to get there, and you'll be met by a small, refreshing pool to cool off in. Sit around with snacks and drinks and take in the beautiful scene of mossy rocks, cascading water, and lush flora. Keep in mind that the road to the trail requires a 4×4, such as an ATV or dirt bike–scooters aren't the best option for this road.
What to Pack
So, what do you need to bring to Ometepe? You'll be spending a lot of time outside, hiking, swimming, kayaking, and doing other adventurous activities. That means you'll want to have a fair share of clothes that you don't mind getting dirty. So, let's take a quick look at all the items you should pack for your trip. You can also read up on the best travel gadgets every digital nomad and traveler should have here!
Swimsuits

Shorts

T-shirts

Hiking shoes

Windbreaker/ Rain Jacket

Sandals

Hat

Sunglasses
The Best Time to Visit Ometepe Island
Nicaragua has two primary seasons: the rainy season and the dry season. The rainy season takes place between May and October–October is typically the wettest month. Although you can still travel to Ometepe Island in the rainy season, the weather may hold you back from experiencing everything it has to offer. Try to plan your trip between November and April for the best possible experience!
Final Thoughts
Ometepe Island is truly a destination unlike any other in Central America. If you're looking for somewhere to disconnect from the real world and to get away from basic touristic destinations, then you're in for a special treat. Each evening as you watch the sunset and take in the gorgeous views of the volcanoes, you'll fall more and more in love with Ometepe.