Why Everyone Should Visit Mexico: Everything You Need to Know
Ahhh Mexico! Street tacos, mariachi bands, and tequila, what's not to like about the country? If Mexico isn't at the top of your travel list, it ought to be! It's a haven for weekend travelers, digital nomads, and everyone in between. But does it really live up to all the hype?
It sure does!
Let's take a journey through all the reasons why you should visit Mexico. By the end of the article, don't be surprised if you find yourself booking a ticket for the next available flight. So, grab your passport, and let's head down south.
The Food–Duh!
Prepare your taste buds for an explosion of flavors. Maybe you've had Mexican cuisine back home, but it's nothing like the real deal. Throughout the country, finding top-notch restaurants and street vendors is as easy as turning the corner. If you're unfamiliar with specific Mexican dishes, don't worry. We're here to break down the country's menu.
Tacos
In Mexico, there are tacos galore! Every big city and small town is riddled with taquerias of all kinds, from gourmet and expensive to cheap and greasy. Some of the most popular meats are al pastor (marinated pork), bistec (beef), cabeza (head), and chorizo (chopped pork with spices). Most restaurants also have vegetarian options!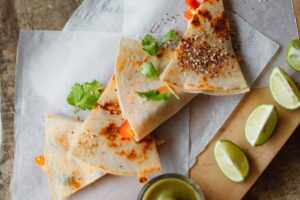 Quesadillas
What's better than a tortilla full of delicious melty cheese?
Quesadillas have been served in Mexico for hundreds and hundreds of years. They're typically made with corn tortillas and filled with cheese, meats, veggies, and beans. Don't miss out on the cheesy goodness!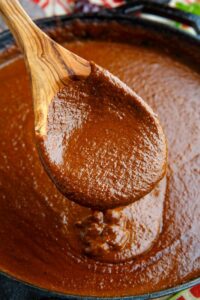 Mole
Mole is a decadent Mexican sauce that can't be missed. It's made with cocoa, chili peppers, nuts, seeds, and other goodness. The sauce is often served with enchiladas, tamales, chicken, and corn. Because it has a wonderfully sweet but spicy kick, it's not uncommon to see it as a dessert sauce.
Tlayudas
In Oaxaca or Oaxacan-inspired restaurants, tlayudas are plentiful. They consist of a large crispy tortilla that's layered with beans, meats (or veggies), and cheese (some are layered with mole instead of refried beans). Tlayudas are quite addicting, so don't say you weren't warned!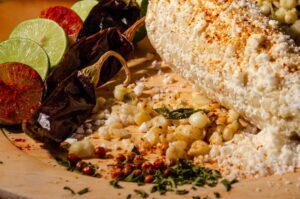 Elote and Esquite (Street Corn)
Street corn, anyone? Mexico has two types of street corn, elote and esquite, and both are a blast of deliciousness. Elote refers to corn on the cob that's covered in a mayo sauce, chili powder, cheese, and lime. Esquite is corn in a bowl served with the same ingredients. Keep an eye out for vendors on the corner selling these must-try dishes.
Affordability
Compared to Europe and the United States, Mexico is an extremely affordable country. Of course, there are plenty of luxurious options that come at a steep price–tourist hotspots, such as Cabo and Cancun, tend to be quite expensive. But for the most part, in Mexico, you can experience a lot more for a lot less. So, let's check out some price ranges you can expect to see. The conversion rate is roughly $1 USD to $18 MXN (for the sake of ease, we'll use USD to talk about prices).
Check out the best money-saving tips here to learn how to stretch out your money and travel longer!
Dining Prices
When you go out to a standard restaurant, expect to spend about $10. However, higher-end restaurants can cost $25+ per person. If you really want to keep costs down, street tacos are typically priced between $0.60 and $1.25 each–not too bad, right?
Accommodation Prices
The price of accommodation in Mexico ranges greatly. Backpackers can find wonderful hostels for less than $20 in nearly every city, but you'll also have the option of spending $100+ on hotels and resorts. A great middle option is Airbnb. On the app, there are accommodation options for all preferences and all budgets, from cheap private rooms to affordable apartments to pricy luxury homes.
At a minimum, you should plan to spend at least $1,500 per month in Mexico.
Endless Destinations
What type of place do you want to visit? The beach? The mountains? The desert? Well, Mexico has got it all! No matter what your climate or activity preferences are, you'll be able to find the perfect location for your visit. Let's check out some of the best places to visit in Mexico that should be high on your travel list.
Mexico City
Mexico City is a bustling metropolitan where Mexican culture gets an international kick. The street food is unbelievable, the nightlife is epic, and there's an endless number of activities to fill up your itinerary with. Some of the top attractions are the anthropology museum, Teotihuacán ruins, and the boat tours of Xochimilco.
Oaxaca
When you ask locals where the best places to visit in Mexico are, Oaxaca will be one of the first locations they mention. The city is known for its Day of the Dead celebrations, markets, and to-die-for cuisine, including tlayudas, mole, empanadas, and garnachas. Oh, there's also no shortage of mezcal, so sign up for a tasting, and enjoy everything that Oaxaca has to offer.
Guanajuato
Guanajuato is a gorgeous city with colonial architecture just north of Mexico City. Its streets are full of vendors, markets, mariachi bands, and tons of great cafes and restaurants to explore. There are beautiful dry mountains with great trails surrounding the city, so bring your hiking shoes.
San Cristobal de Las Casas
Down in the state of Chiapas, San Cristobal is a lovely town tucked away in the mountains. The weather is much cooler here than other Mexican destinations, which gives you a nice break from the heat. San Cristobal is known for having a large indigenous population, stunning waterfalls, fascinating ruins, and excellent dining options.
Puerto Escondido
If you like the coast, Puerto Escondido is easily one of the best places to visit in Mexico. The beach town is a bit less expensive and crowded than Cancun or Cabo, but it's equally as beautiful. For the full beach experience, book your stay at La Punta, where you'll never be more than a couple blocks from the stunning coast.
Fascinating History
When you visit Mexico, get ready for a dose of culture and history. The country has been inhabited for more than 13,000 years and has seen the rise and fall of several civilizations. Of course, the most famous group to leave its mark on Mexico is the Aztec civilization. In the central and southern parts of the country, you'll never be too far away from ancient pyramids that will leave you speechless. So, during your trip to Mexico, make a point to learn about the history and culture around you. It will make your time there that much more special!
Final Thoughts
Do you see why you should visit Mexico now? From world-class cuisine to low prices to a huge variety of destinations, the country is one of those places you could spend a lifetime and still have more to explore. So, get ready to have an unforgettable trip, and enjoy your stay in Mexico!