If you're considering a new laptop for college and are new to Chromebooks, one question you might have is, are Chromebooks worth it for college? If you're wondering the same, then this article is for you!
Chromebooks give students flexibility since they are portable, easy to use, secure, and have long battery life. All of these features make Chromebooks worth it for college students whether returning to class or continuing to learn from home. 
In this article, I explore topics such as what Chromebook is good for college, is a Chromebook enough for a college student, and much more.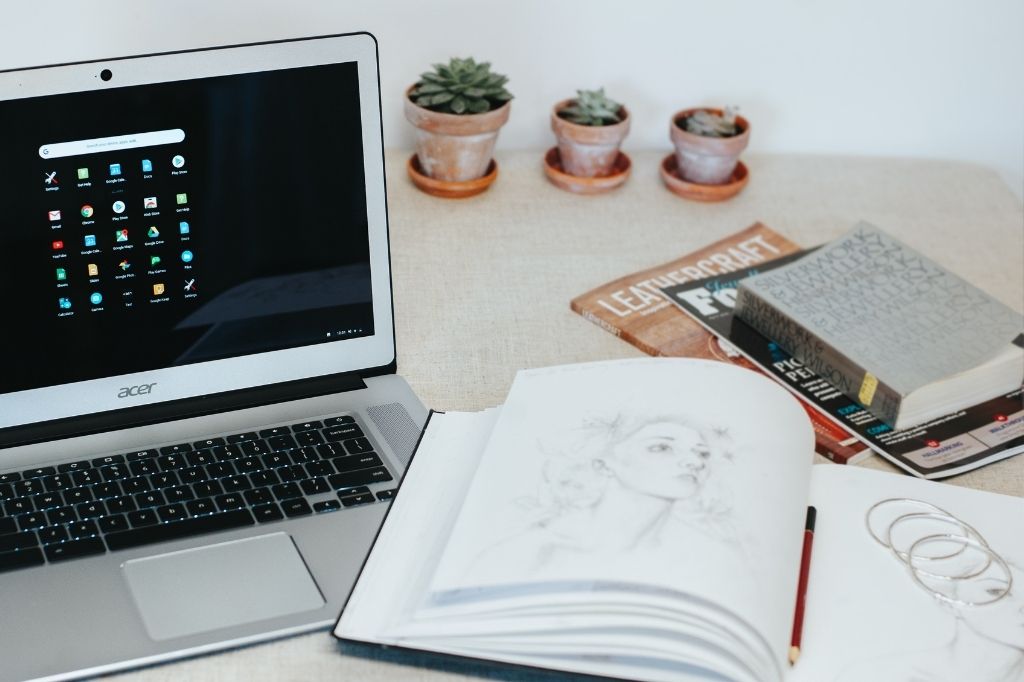 Table of Contents
What Chromebook Is Good For College?
Chromebooks offer an affordable alternative to a Windows or MacBook laptop. Chromebooks are extremely popular with college students whether they're returning to school or continuing to learn from home. Chromebooks all typically have a similar feature set, and they all use Google Chrome OS, which is lightweight and easier to use when compared to Windows or macOS.
Chromebooks are know for being budget-friendly, which may be a key selling point for students. For comparison, most entry-level MacBooks will run you around $900, where as a midrange Chromebook can be purchased from as little as $400.
---
Editor's Choice
Google Pixelbook Go
| | |
| --- | --- |
| Screen Size: | 13.3 inches |
| Screen Resolution: | 1920 x 1080 pixels |
| CPU: | Intel Core i5 |
| RAM: | 8 GB |
| Hard Disk: | 128 GB |
Google Pixelbook Go specs.
Why you'll love it. Built to stand the test of time, the Google Pixelbook Go Chromebook has a battery life that will outlast most laptops on the market. Complete with a 13.3 inch full HD touchscreen, high-resolution camera, and weighing in at a shade over 2 pounds, this Chromebook is the ideal student computer.
---
Best Budget Chromebook
Samsung Galaxy Chromebook 4
| | |
| --- | --- |
| Screen Size: | 11.6 Inches |
| Screen Resolution: | 1366 x 768 pixels |
| CPU: | Celeron N3450 1.1 GHz |
| RAM: | 6 GB |
| Hard Disk: | 64 GB |
Samsung Galaxy Chromebook 4 specs.
Why you'll love it. The budget-friendly Samsung Galaxy Chromebook 4 is a slim, lightweight, durable Chromebook with fantastic battery life on a single charge. Despite its low cost, this Chromebook still offers great performance for any student at college or university. Built to meet eight military-grade standards including, transit drop, vibration, high temperature, temperature shocks, freezing, dust, humidity, and low pressure.
---
Best 2-in-1 Chromebook
Acer Chromebook Spin 713
| | |
| --- | --- |
| Screen Size: | 13.5 Inches |
| Screen Resolution: | 2256 x 1504 pixels |
| CPU: | Intel Core i5 4.2 GHz |
| RAM: | 8 GB |
| Hard Disk: | 128 GB |
Acer Chromebook Spin 713 specs.
Why you'll love it. The Acer Chromebook Spin 713 is a stunning 2-in-1 Chromebook that's no slouch thanks to Intel's Core i5 processor. The 360-degree flip-and-fold convertible design offers flexibility that students will enjoy. With a 2K touch screen, this Chromebook will power you through a full day at college and still have juice left for entertainment at night.
---
Is A Chromebook Enough For A College Student?
For most college students a Chromebook will be more than enough to get by. You can now find apps to do everything you need on a Chromebook. Apps like Microsoft Office for productivity, Adobe Lightroom for photo editing, and Figma for designing, drawing and sketching are all available on a Chromebook.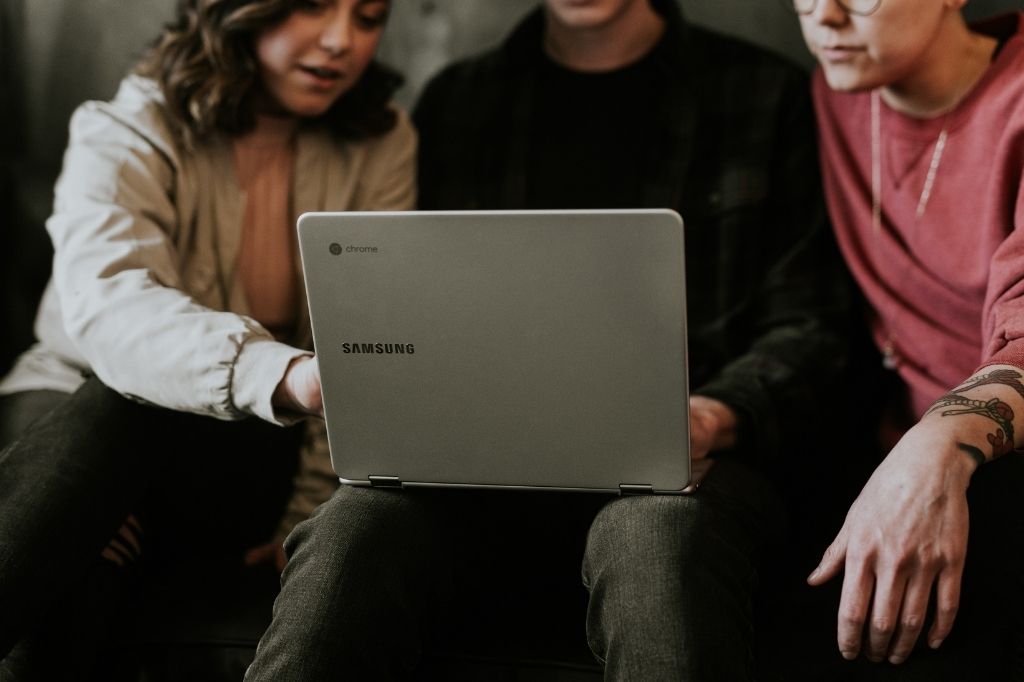 You can use a Chromebook to do just about anything for much less than a Windows or macOS laptop. However, where Chromebooks really excel is online. Unlike Windows and Apple laptops, Chromebooks rely on Google and other cloud-based applications to function at their best.
While most college students will get by with a Chromebook, if your studies do require a specific piece of software that needs to be installed locally onto your computer, then a Chromebook might not be your best option.
Chromebook Pros:
When compared to Windows or macOS laptops, Chromebooks are typically less expensive.
Chrome OS enables Chromebooks to start up fast while also being easy-to-use and very secure. Chrome OS also has antivirus built-in that is automatically kept up-to-date behind the scenes.
Chromebook battery life can last upwards of eight hours on a single charge, making it perfect for anyone needing to work with limited access to power.
Chromebook Cons:
Chromebooks do rely on cloud storage and therefore typically have significantly smaller storage drives than Windows or macOS laptops.
To get the most out of a Chromebook you're going to need an internet connection as not all apps have an offline work mode.
Gaming on a Chromebook is limited to games on Stadia, GeForce NOW, or mobile games on Google Play.
Chromebook Vs. Other Laptops
From the outside, a Chromebook and a Windows laptop look the same as far as design is concerned. However, as you start to compare, you will notice that Chromebooks are more budget-friendly, faster, integrate with the cloud, and run on a lighter-weight operating system.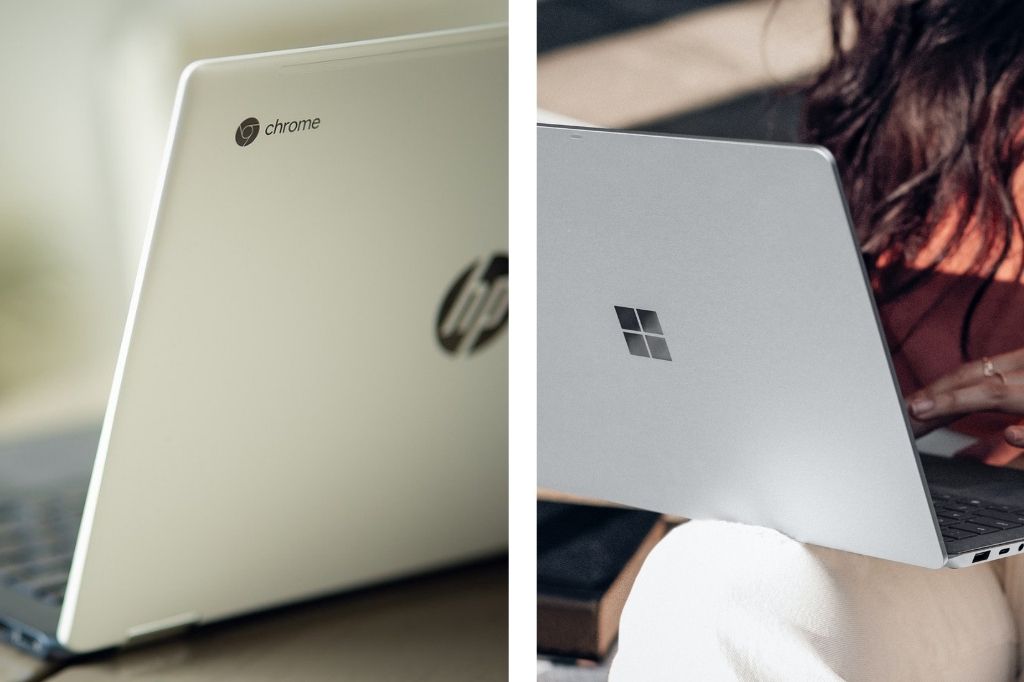 So what are the key differences between a Chromebook and other laptops Despite looking the same as far as appearance is concerned, the main difference is of course the operating systems. While other laptops run popular operating systems like Windows and macOS, Chromebooks run Google Chrome OS, a lightweight, speedy, and easy-to-use browser-based operating system designed for online use. Other key differences include:
Locally installed software
Local storage
Gaming
What You Should Look For When Buying A Chromebook
When it comes to what you should look for when buying a Chromebook for college it can be a tricky task if you're not familiar with all the technical jargon. Fear not, below I've listed out the most important features you should consider before making that all important college purchase.
CPU:
The Central Processing Unit (CPU) is the brain of any Chromebook. Measured in Gigahertz (GHz), the higher the CPU GHz speed, the faster the Chromebook.
RAM:
Random-Access Memory (RAM) also influences a Chromebook's speed. Most Chromebooks come with 4 GB to 8 GB of RAM which will be well suited for most users.
Screen Size:
The most common Chromebook screen sizes are, 11.6, 13.3, and 15.6 inches. Screen resolution is also standard at around 1366 x 768 pixels (HD) whilst high-end models will offer 1920 x 1080 pixels (Full HD).
| Screen Display | Screen Pixels |
| --- | --- |
| 4K | 3840 x 2160 pixels |
| Quad HD | 2560 x 1440 pixels |
| Full HD | 1920 x 1080 pixels |
| HD | 1366 x 768 pixels |
| Non HD | 1280 x 720 pixels |
Display screen quality and pixel sizes.
Hard Disk Size:
Internal hard disc storage (HD) will vary between 16 GB to 64 GB. If you need more internal storage this can be expanded by using a microSD card.
I/O Ports:
Expect Chromebooks to come with various Input/output (IO) ports, typically USB-C. Users looking to connect to a larger screen or monitor should consider Chromebooks that have and HDMI port.
Frequently Asked Questions
Hopefully, I have answered all of your questions related to, are Chromebooks worth it for college. However, you may still have other questions surrounding Chromebooks. If you do, below, I have answered some popular Chromebook frequently asked questions.
Can I watch movies on a Chromebook?
You can stream movies direct from the internet or you can download a movie and watch it by installing the Google Play Movies and TV extension.
Can I work offline on a Chromebook?
Apps like Google Docs and Microsoft Office all offer Chromebook users the ability to work in an offline mode.
Can a Chromebook get viruses?
Since a Chromebook runs online and you can't download any executable software, this means that the threat of getting a virus is minimal.
Final Thoughts On Are Chromebooks Worth It For College?
So, in conclusion, are Chromebooks worth it for college? For most students, a Chromebook is a great choice for college be it for work or play. Chromebooks allow students to be flexible and work on the go, thanks to their long battery life. Chromebooks are also fast, secure, and have built-in virus protection, and lastly, compared with other popular Windows and Apple laptops, Chromebooks are more friendly on the wallet, therefore Chromebooks are worth it for college!
---
Affiliate disclaimer. We may receive an affiliate commission at no extra cost to you if you purchase a product after clicking on one of our links. This doesn't affect our editorial independence.