Whether you're a seasoned business traveler or you take the occasional family vacation, as far as travel nightmares go, losing your luggage has to be one of the worst, but it doesn't have to be.
If you're a Samsung Galaxy Android user, you might be wondering, can you track luggage with a Samsung Galaxy SmartTag Plus?
The simple answer is yes. With a Samsung Galaxy SmartTag Plus, you can track your luggage at the airport.
In this article, I dig into topics like can you put a tracking device on your luggage, are luggage trackers TSA approved, and much more.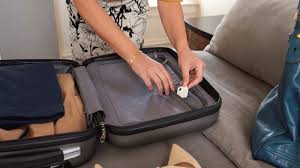 Can
You Put A Bluetooth Tracking Device On Your Luggage?
The good news for air travelers is that you can put a Bluetooth tracking device on your luggage without any issue.
Bluetooth tracking devices like the Samsung Galaxy SmartTag+ work great inside our outside to prevent lost luggage. Offering regular location updates, you will be able to get a good sense of the location of your luggage while at the airport.
Luggage that is mishandled happens for many reasons, one such reason is a tag-off. A tag-off is where the bag tag itself has separated from the bag and therefore can no longer be sorted, resulting in a bag mishandling.
A tag-off can happen for several reasons, perhaps it wasn't attached correctly during self-check-in or, perhaps it was ripped off as it made its way through the vast airport baggage handling systems.
Are Bluetooth Luggage Trackers TSA Approved?
Bluetooth luggage trackers are approved by the TSA today. Thousands of Bluetooth devices successfully pass through TSA security daily, devices like headphones, tablet keyboards, and game consoles.
There are no constraints in taking Bluetooth luggage trackers like the Samsung Galaxy SmartTag+ through airport security. Whether you leave the device inside your carry-on or have it attached to your checked baggage, you will have no issues traveling with the tracking device.
Bluetooth devices are also allowed on planes. The Federal Aviation Administration (FAA) is the largest transportation agency of the U.S. government and regulates all aspects of civil aviation in the country. In 2013, the FAA adjusted its rules and regulations, allowing passengers to use Bluetooth headphones during flights.
How Does The Samsung Galaxy SmartTag+ Find Luggage?
With a Bluetooth range of between 250-300 feet, tracking or finding your luggage within this range is both smart and simple using your Samsung Galaxy smartphone and the Samsung SmartThings app.
Samsung SmartThings Find network.
If your tagged luggage happens to be outside your SmartTag's Bluetooth range, don't panic. Using your Galaxy smartphone running Android 11.0 or higher, you can leverage hundreds of millions of other Samsung devices on the Samsung SmartThings Find network to help pinpoint your missing item's location.
The durable Bluetooth tracker is powered by a user-replaceable CR2032 coin cell battery that, according to Samsung, will last about six months before needing to be replaced.
How Accurate Is A Samsung Galaxy SmartTag+ Location?
The Samsung Galaxy SmartTag+ location is highly accurate. The SmartTag+ uses Ultra Wideband technology, a short-range wireless communication protocol. However, unlike Bluetooth and WiFi, Ultra Wideband operates at a much higher and broader frequency range and is capable of highly accurate spatial and directional data points.
With AR Finding backed by Ultra Wideband data, you can track and locate your tagged luggage to within inches or less of its exact location.
One point to note, however. AR Finding is only compatible with Samsung devices that support Ultra Wideband technology. Check out Samsung's latest smartphones for compatibility.
Frequently Asked Questions
Hopefully, I have answered all of your questions related to, can you track luggage with a Samsung Galaxy SmartTag Plus. However, you may still have other questions surrounding the SmartTag+. If you do, below I have answered some common frequently asked questions.
Is the Samsung Galaxy SmartTag+ a GPS tracker?
The Samsung Galaxy SmartTag+ is not a GPS tracker. It does not and cannot connect to GPS satellites.
How long is the Samsung Galaxy SmartTag+ battery life?
According to Samsung, the max battery life is 165 days.
Does the Samsung Galaxy SmartTag+ need cell service?
The Samsung Galaxy SmartTag+ does not use or need a cell service to track things.
Final Thoughts On Can You Track Luggage With A Samsung Galaxy SmartTag Plus
So, in conclusion, can you track luggage with a Samsung Galaxy SmartTag Plus? Yes. The SmartTag+ is ideal for helping you track or find lost luggage. They're small, lightweight and cheap to buy. With the help of hundreds of millions of Samsung devices it shouldn't take long for your lost luggage to show up in the SmartThings Find app.
---