Parents, if you've ever wondered, what is the best learning tablet for toddlers and preschoolers, then this article is for you!
The best learning tablet for toddlers and preschoolers is the Amazon Fire HD 10. Packed full of learning features, a drop-proof case, and strong parental controls, the Amazon Fire HD 10 tablet is a tough choice to beat.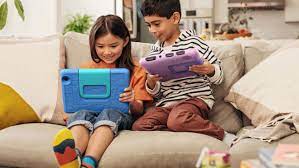 There is a wide choice when choosing the best learning tablet for a toddler or a preschooler. However, the Amazon Fire HD 10 kid tablet is a clear winner. In this article I explore what makes this learning table the best choice. 
Whether you're at home or traveling in the car, kids tablets have become a popular choice for learning or entertainment for toddlers and preschoolers.
With a never-ending choice of preschool apps, movies, e-books, and games, investing in a learning tablet for toddlers and preschoolers just makes good sense for parents.
After spending many hours of research and comparing against the most popular tablets for kids, in this article, I explore the best educational and learning tablet for toddlers and preschoolers available on the market today.
What Is The Best Learning Tablet For Toddlers And Preschoolers?
---
Editor's Choice
Amazon Fire HD 10 Kids Tablet​
After hours of research, my recommendation for the best learning tablet for toddlers and preschoolers is the Amazon Fire HD 10 kids tablet.
It's a complete upgrade from the previous 7 model with Amazon marketing it as their most powerful tablet made specifically for kids aged 3 to 7 years old. So let's take a closer look below and see why I believe its the best learning tablet for toddlers and preschoolers.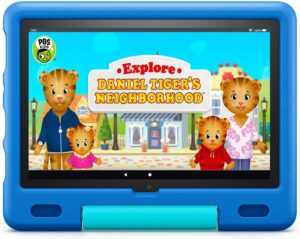 Best for ages 3-7 years old
25 ounces in weight
10.1 inch, 1080p Full HD display
12 hour battery life
Octa-core 2.0 GHz CPU
3 GB RAM
2 year guarantee
Includes protective case
Available in 3 colors
---
Let's Take A Closer Look At The Amazon Fire HD 10 Kids Tablet​
The Fire HD 10 tablet has been built purely with kids in mind. This tablet is Amazon's most powerful device aimed at 3-7-year-olds. The device is packed full of features to ensure the best possible experience for your toddler or preschooler.
Amazon Fire HD 10 Pros:
Includes 1 year Amazon Kids+ subscription
Kids specific profile so they can only download age-appropriate apps
Easy to use parental controls
Has a 10.1 inch, 1080p Full HD display with strengthened aluminosilicate glass
Faster and more responsive over the previous model
Long lasting battery life
Comes with a worry-free 2 year guarantee
Includes a protective case
Amazon Fire HD 10 Cons:
Storage space could become an issue
The kids home screen can't be customized
The external speaker system is average
At its heart lies an Octa-core 2.0 GHz processor with 3 GB of RAM. The display is a generous 10.1″ 1080p full HD with a resolution of 1920 x 1200 offering more than 2 million pixels. The display screen has been strengthened with aluminosilicate glass for extra protection.
Coming in at a weight just over 25 ounces the tablet offers a storage capacity of 32 GB and is expandable to 1 TB with the purchase of an additional microSD card.
Powering all this tablet tech is a battery capable of lasting up to 12 hours under normal usage conditions. The battery is also capable of being recharged from 0-100% in 4 hours.
There are no surprises when comparing connectivity with the tablet supporting both 2.4 and 5.0 GHz networks. As you would expect, the tablet supports all the standard protocols like WEP, WPA, and WPA2. Two points to note here is that the tablet does not currently support Wifi 6 or offers any 4G or 5G cellular connectivity.
Other device features include a 2 MP front-facing camera, a 5 MP rear-facing camera both cameras have a 720p resolution capability for video recording. The last features to call out are the built-in accelerometer, ambient light sensors, a 3.5 mm stereo jack, and dual integrated speakers, and accessibility features all come as standard.
Backed by a 2-year worry-free guarantee the tablet comes in 3 attractive colors, sky blue, aquamarine, and lavender. In the box, you will find the Fire HD 10 tablet, a kid-proof case with a stand/handle, a USB-C 2.0 charging cable with a power adapter, and a 1-year's subscription to Amazon Kids+.
Are Tablets Bad For Toddlers And Preschoolers?​
There is no doubt that a tablet for kids can be invaluable when considering it as an educational tool. Just take a look on Amazon where you will find a slew of technology-based educational activities and games available to facilitate this.
There is also a benefit when it comes to technology familiarity. Introducing a preschool child to a tablet will set them up for success in later life where they will most likely use a similar device in school.
On the other hand, parents have successfully raised and educated toddlers for many years before the first tablets arrived on the shelves to buy. Furthermore, many parents will argue that there is simply no need for a toddler or preschooler to have a tablet and their preference is to encourage learning through face-to-face engagement and real-world experiences.
The consensus suggests that no, tablets are not bad for toddlers and preschoolers when the appropriate checks and balances are in place, for example, age-appropriate content, implementing parental controls, setting screen time limits and good internet safety practices. Maintaining a healthy balance is critical to ensure that an unhealthy relationship with technology doesn't develop.
Why I Would Not Buy An iPad For My Toddler Or Preschooler
Don't get me wrong, Apple's iPad tablet is top-rated with fantastic features. However, there are a few things missing for me and therefore I would recommend the Amazon Fire HD 10 as a kid tablet ahead of it.
First and foremost, Apple does offer a wide variety of apps, but there is no specific kid service like Amazon Kids+. Second, the parental controls are great but again they're just not specific enough for a kid's tablet in my opinion.
My last point is the total cost of ownership. Apple iPads can be incredibly expensive and once you add accessories the cost just climbs even higher, and that's before you've even loaded your first app onto the device.
Frequently Asked Learning Tablet Questions​
What are the benefits of a tablet?
Most will agree that one of the main benefits is portability. Yes, it is true that a laptop also offers portability. However, a tablet is much less bulky and lighter to carry than a laptop. Battery life is also another benefit to consider. Typically tablet batteries last considerably longer than laptop batteries because tablets do not have such a large display screen and usually operate on a lighter OS build and therefore do not need to be cooled by a fan, unlike a laptop.
Performance is also another key benefit. Because tablets are running a lighter OS build they are able to boot up and perform much quicker than a laptop running Microsoft Windows for example can.
Are Apple tablets better than Android tablets?
Unfortunately, it's impossible to give a yes or no answer to this question simply because it comes down to personal choice. If you are already heavily vested in the Apple ecosystem it's very unlikely that you will want to break that mold and opt for an Android tablet and the same is also equally true if you tend to be using Android technology.
What specs should I consider when buying a tablet?
When it comes to considering tablet specs, there are numerous things you need to consider. Our top considerations are: device size and weight, screen size and resolution, processor and speed, storage, battery life, camera resolution and connectivity like WiFi or cellular
Can I upgrade the RAM on a tablet?
You cannot upgrade the RAM on a tablet. Tablets are typically all-in-one units and don't allow for upgrading components like adding additional RAM.
Can I expand the storage on a tablet?
Depending on the make and model of the tablet there may be an option to expand the storage by using an optional microSD card. One thing to note, some apps or features may actually require to be installed onto the internal storage in order to operate correctly.
What is the best tablet for toddlers?
The best tablet for toddlers is the Amazon Fire HD 10. It's packed full of kid-friendly and parent-friendly features and has all the latest tech features, therefore, making it a perfect choice for toddlers.
Final Thoughts On The Best Learning Tablet For Toddlers And Preschoolers
So there you have it. If you are looking for the best learning tablet for toddlers and preschoolers then the Amazon Fire HD 10 tablet has to be a top choice. It's a best-in-class tablet that ticks all the right boxes and more as far as requirements for a kid aged 3 to 7 years of age is concerned.
With its large screen, protective case, long battery life, easy-to-use parental control, worry-free guarantee, and a 1-year subscription to Amazon Kids+ it's hard to consider anything else.
One final thought, longevity perhaps is a concern. You're maybe wondering what if my child outgrows the device? Well, there is nothing to stop you from removing the child-proof case, creating a new profile on the device, and converting the tablet into a regular Amazon Fire 10 tablet, and letting them enjoy the latest movie or show on Amazon Prime.
So that's another reason that solidifies my recommendation for this device as the best learning tablet for toddlers and preschoolers, and I would even go as far as to say that this device is the best tablet for toddlers period.
---